Dear Students, Faculty and Staff:
The Office of Campus Planning, Design and Construction continues its efforts to improve and upgrade the University's infrastructure, particularly its utilities.
This week, the team will begin its work to replace and relocate a 50-year-old water main located under Sims Drive and Forestry Drive. The construction will run from Wednesday, Aug. 10, through Wednesday, Aug. 31. During this time, signage indicating closures and detours will be present, and flaggers directing traffic will be on campus assisting commuters.
As a result of this work, Sims Drive and Forestry Drive will be closed from the bridge at Archbold/Flanagan to Illick Hall from 6 a.m. to 6 p.m. beginning on Friday, Aug. 19, and running through Sunday, Aug. 21. Only local traffic traveling to SUNY ESF buildings will be allowed through while construction is underway. All other traffic is encouraged to travel via Irving, Waverly or Comstock avenues.
Additionally, three parking lots will be impacted by this work but we expect the impact to be minimal. Those lots include:
ESF Forestry Parking at Illick Hall
Closed Wednesday, Aug. 10, through Tuesday, Aug. 16  
ESF Forestry Parking at Lincoln Statue (Both sides of Forestry)
Closed Wednesday, Aug. 17, through Sunday, Aug. 21 
Arch Strip (Southern five spots)

Closed Sunday, Aug. 21, through Tuesday, Aug. 23 
To get a better idea of the impacted areas and alternative routes, I have included a map below for your reference.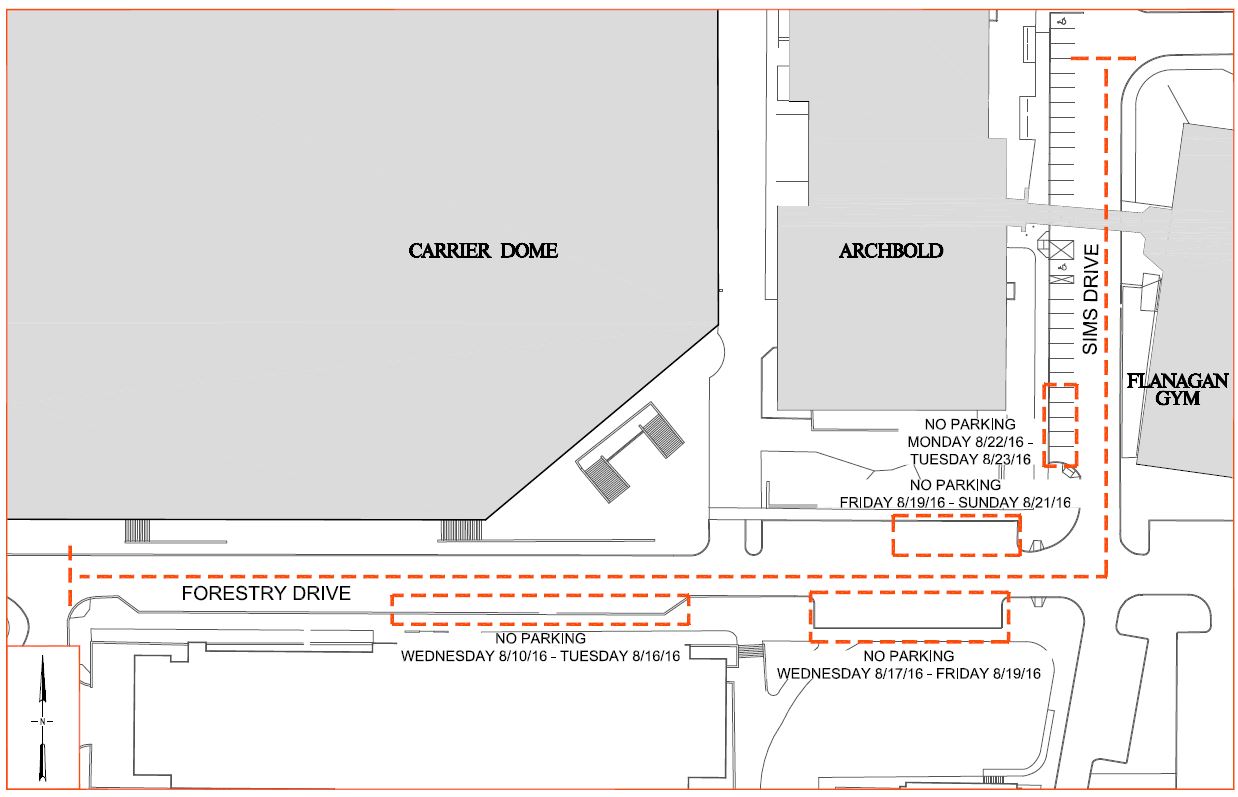 If you have any construction-related questions, comments or suggestions, please email cpdc@syr.edu. For parking concerns, call Parking and Transit Services at 443-4652. And, if you have questions pertaining to accessibility, contact Aaron Hodukavich, director and ADA coordinator in the Office of Equal Opportunity, Inclusion and Resolution Services, at 443-2377 or ajhoduka@syr.edu.
Thank you for your patience and understanding.
Sincerely,
Pete Sala
Vice President and Chief Facilities Officer