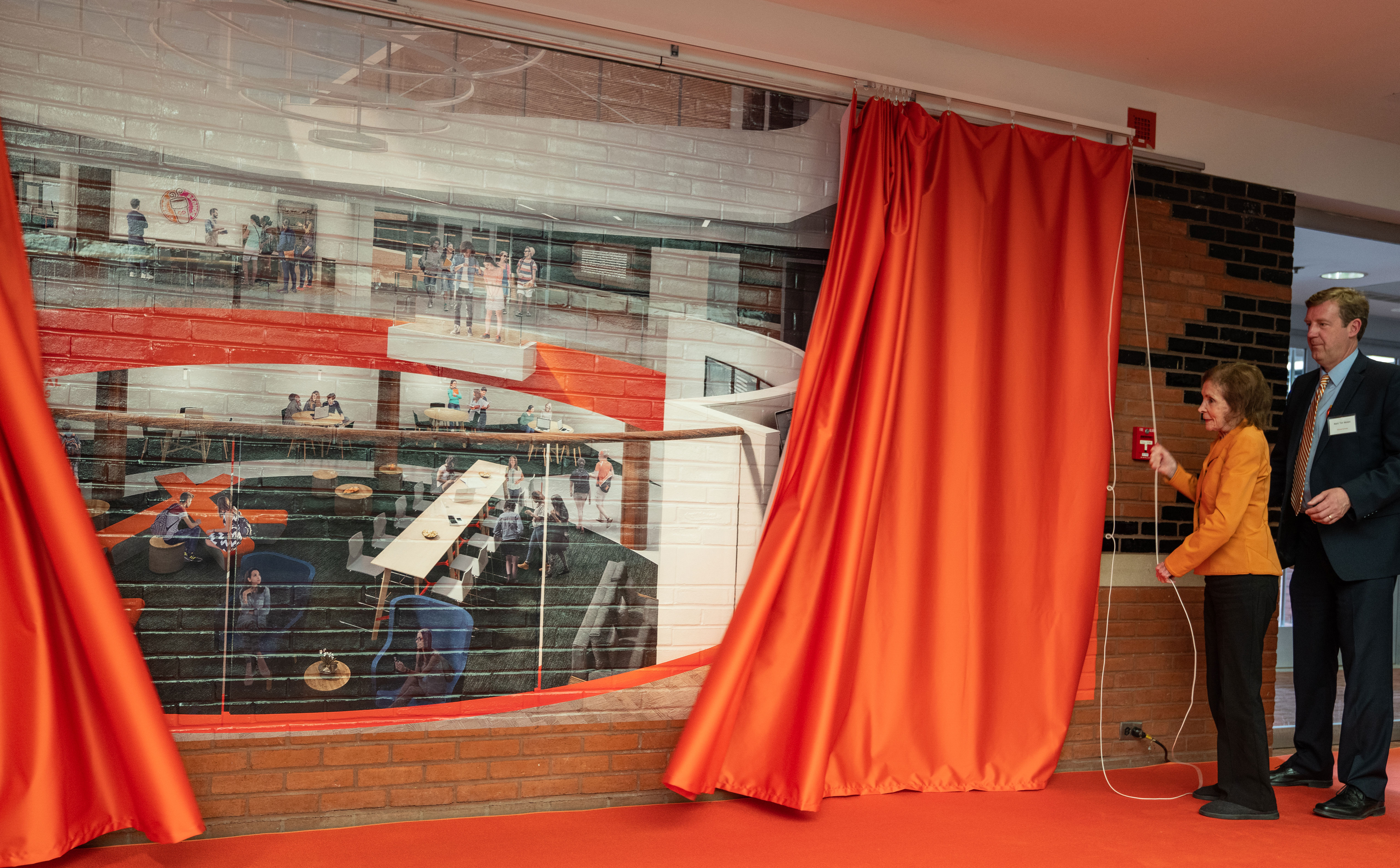 Transformed by an abundance of natural light, warm Syracuse Orange colors and a new vibrant spirit, the renovated Hildegarde and J. Myer Schine Student Center officially opened its doors on Monday, Feb. 8, 2021.
Planned in consultation with, and input from, the campus community, the Schine Student Center offers the feel of a home and hub for student life: a place to study, meet up, eat and recharge. Its environs include a generous amount of gathering spaces, new eateries and accessible features, and a vibrant open central atrium that extends from the top floor to the main floor, with a two-story video wall.
Student-facing services and student organization offices are prioritized and highly visible, along with a key grouping of cultural centers—the Office of Multicultural Affairs, the Disability Cultural Center and the LGBTQ Resource Center—framed as the Intercultural Collective, which allows deeper, connected conversations around the many intersections of identities. The Schine's new footprint includes an additional 8,600 square feet of student activity space.
The center atrium was opened to bring in more light and connection; the student activities and cultural centers are in new front-and-center spaces; and modern, comfortable furniture—selected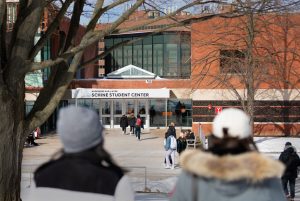 after receiving student feedback—was brought in. Accessibility was enhanced throughout, with all exterior grade-level public doors accessible with automatic door openers; smooth floor transitions; upgrades to existing elevators; a fully accessible path through the building from Waverly Avenue to the Einhorn Walk; new fully accessible restrooms on each level; counter heights and work surfaces made universally accessible; and accessible wayfinding signage.
Another significant component of the upgrade has been the changes to the dining experience, including providing a mix of local and national food options. Along with its continued focus on academic resources, the reinvigorated Campus Store also has more room for new University-branded apparel, a late-night food and grocery market, a coffee stand, and an open-mic event space.
The Schine Student Center was built in 1985, in an initiative led by Renée Schine Crown '50, H'84, who provided the primary gift to create this new space for students on campus. The student center, named in honor of Crown's parents, quickly became the center of student life on campus.
Three decades later, the renovation of the Schine Student Center was featured prominently as part of the Campus Framework to enhance the student experience. Once again, Renée and Lester Crown took an active role in the process—this time to help reimagine the Schine Student Center into the future.