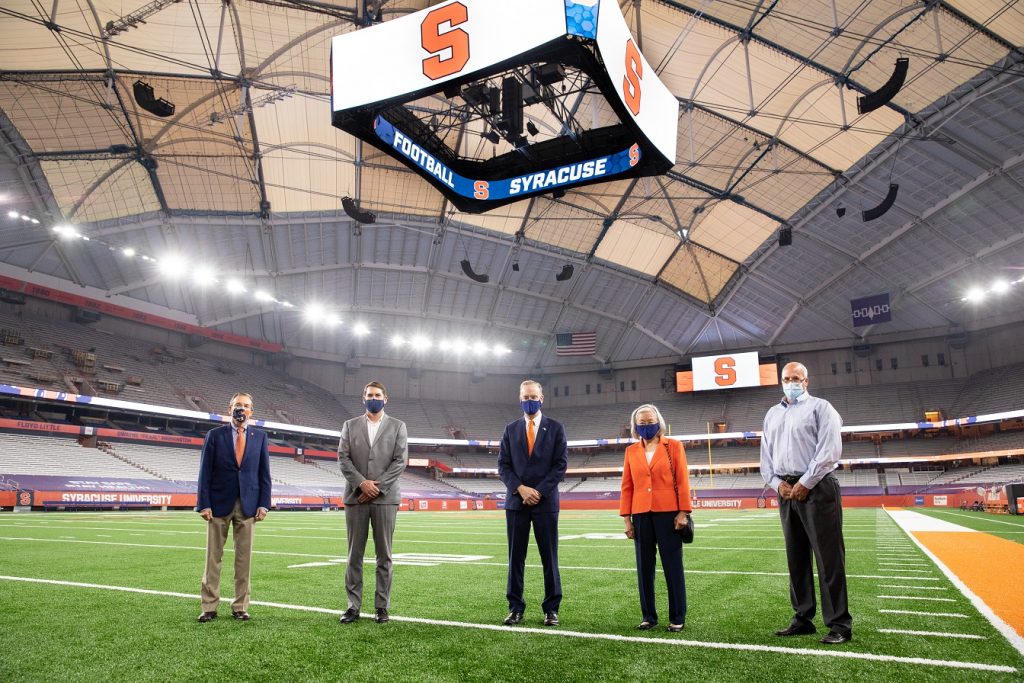 The first phase of Syracuse University's multi-year, $118 million stadium project, unveiled in 2018, was completed on Sept. 25, 2020. It marks a new era for Syracuse University, the Department of Athletics and the many students, faculty, staff and community members who have come to consider "the Loud House" the home of their sports world. This also represents a major milestone for the Campus Framework,
a 20-year roadmap designed to align the University's vision and mission with its physical space and infrastructure.
The work concluded in the first phase includes the installation of a new fixed roof, air conditioning upgrades, extensive accessibility improvements and a center-hung scoreboard, new sound and lighting. The ongoing effort to transform the Stadium will continue into 2022.
The Stadium is an integral and beloved part of every Syracuse student's experience and considered the 'heartbeat' of campus—with students beginning and ending their academic careers in this iconic facility. The stadium was the oldest and only domed stadium in the Northeast and the largest structure of its kind on a college campus in the country.
Since its debut on September 20, 1980, tens of millions of people have witnessed a variety of collegiate and professional athletic events, concerts, Commencements, and student life activities in this storied facility. The $118 million investment, authorized by the Board of Trustees, will enable the University to create a new stadium experience for students, faculty, staff, alumni and fans alike.
One of the most critical components of the transformation is a continued investment in Americans with Disabilities Act (ADA)-related accessibility upgrades. Push-button door openers, ADA-compliant restrooms and concession counters, and closed captioning for the scoreboard have been put in place to meet the needs of our diverse campus community, loyal fans and the public. Additional enhancements will be made in the coming months.