Dear Students, Faculty and Staff:
As we have finished most of the summer construction work and look forward to the start of the new semester, there are just two summer construction updates to share. This will be the last weekly campus construction update. We will begin monthly construction project updates Monday, Sept. 5, and will send updates the first Monday of every month until the end of the school year.
This week's updates include:
Change in bus routing: Change in bus routing: As students return to campus next week, a number of new transportation options will be made available for members of our campus community. This is part of the ongoing effort to create a more efficient campus traffic flow, enhance roadway safety and ensure a seamless level of accessible transportation services for all campus members. This will also allow Centro buses to more efficiently serve all campus community members on ADA-friendly routes through campus and to/from its downtown Centro transit hub.
Beginning today, new bus stops will be operational along College Place and Waverly Avenue. The new bus stops will afford passengers more convenience in taking a Centro bus either to the downtown Syracuse transit hub, or popular destinations for shopping and entertainment throughout Central New York. asdasd
Waverly Avenue: There will now be four bus stops located on Waverly Avenue, including two stops for buses heading eastbound, and two stops for buses heading westbound. The bus stops and destinations are highlighted in the map below. View a full size version of the map at Syracuse University News.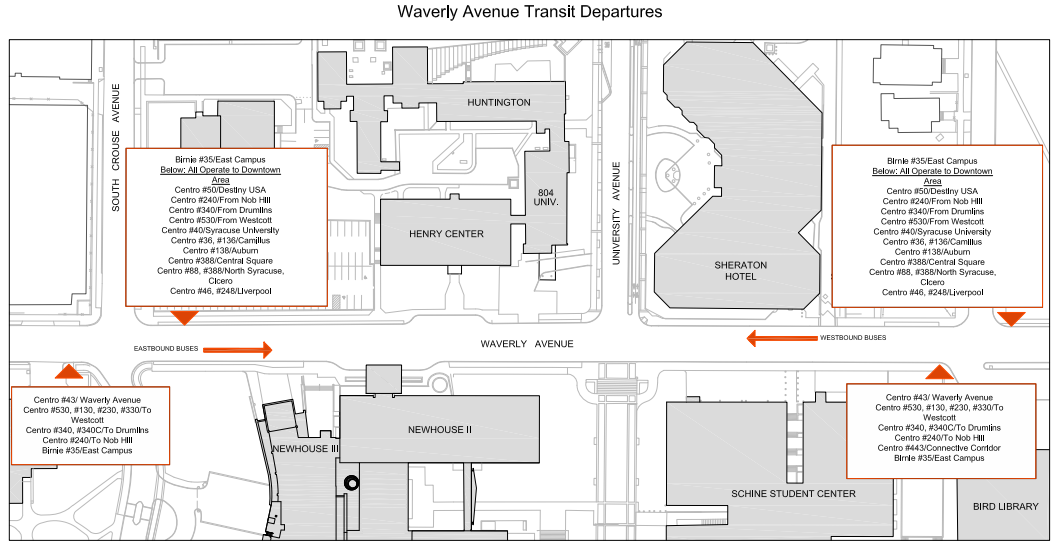 College Place: City routes heading to the downtown Centro transit hub will now pick up passengers on the Life Sciences Complex side of College Place. The new bus stop and destinations are highlighted in the map below. View a full size version of this map at Syracuse University News.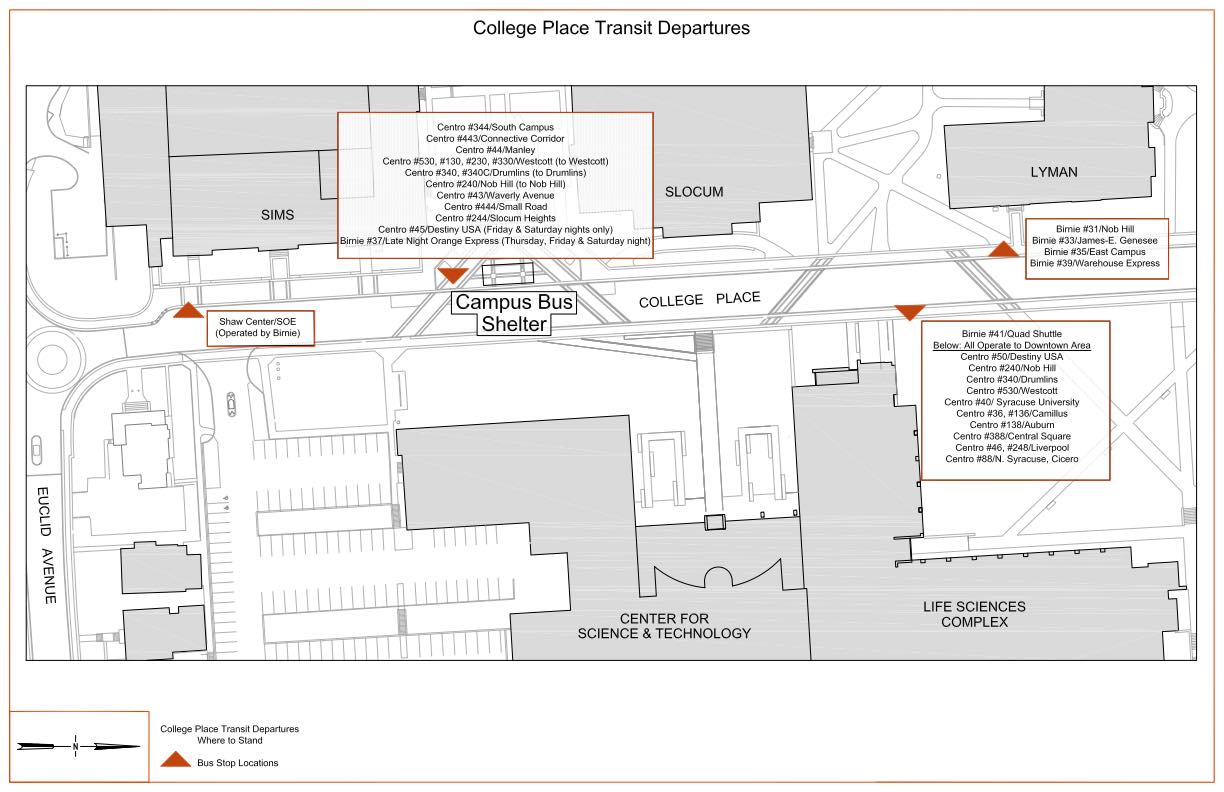 Water Main Replacement: The replacement of the 24-inch water main in Sims Drive will be substantially complete Tuesday evening. The process of testing, connecting and opening the main could last roughly another two weeks. During that time you will notice plates or construction fence at the two ends, but very limited activity.
To learn more about ongoing construction projects, we invite the campus community to attend an upcoming fall construction information session. The first session will be held Tuesday, Aug. 23, in Room 113, Heroy Geology Building, from 9:30 to 10:30 a.m. The community feedback at the summer sessions has been very helpful, and we look forward to continued dialogue about in the new academic year. For the full schedule of upcoming sessions, visit campusframework.syr.edu/events.
If you have any construction-related questions, comments or suggestions, please email cpdc@syr.edu. For questions relating to the new bus stops or parking concerns, call Parking and Transit Services at 443-4652. And if you have questions pertaining to accessibility, contact Aaron Hodukavich, director and ADA coordinator in the Office of Equal Opportunity, Inclusion and Resolution Services, at 443-2377 or ajhoduka@syr.edu.
Regards,
Pete Sala
Vice President and Chief Facilities Officer