MOBILITY PRIORITIES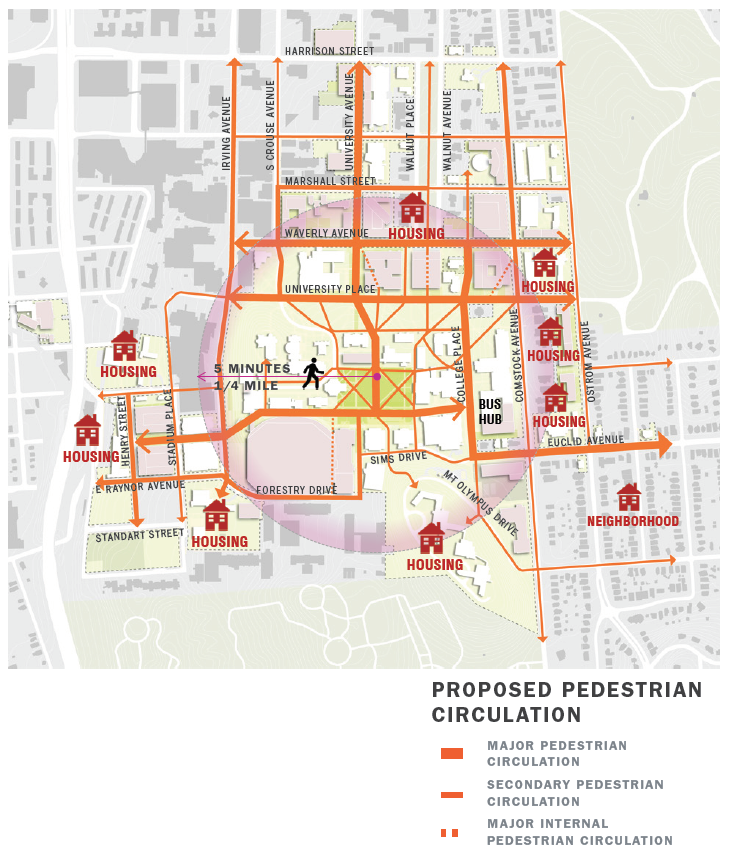 The Campus Framework emphasizes mobility improvements for pedestrian, bicycle, and transit systems to encourage sustainable mobility practices campus-wide.
UNIVERSAL DESIGN
Proposed initiatives improve mobility by incorporating universal design in new projects and retrofitting historic structures to improve accessibility. Accessibility is an issue that will be addressed beyond mobility, and future landscape and building projects will seek to overcome accessibility challenges.
PEDESTRIAN CIRCULATION
A more walkable, compact campus simultaneously reduces emissions and promotes exercise. Improved pedestrian circulation will encourage more people to embrace walking between campus destinations. Signage, wayfinding, and streetscape elements will significantly improve the pedestrian experience.
BICYCLE NETWORK
Development of a unified system of bicycle paths, routes, and lanes that establish clear protocols for bicycle and vehicular traffic will encourage more people to safely and comfortably embrace biking.
TRANSIT SYSTEM
Revised transit loops, schedules, and improved wayfinding and digital updates will enhance service, improve rider experience, and reduce University costs.
VEHICULAR NETWORK AND PARKING STRATEGY
With development of a more compact campus, parking will be located in garages at the campus periphery. Additional lots on South Campus will provide remote parking for long-term needs.